Fokkernews February 2023 (issue 62)
The Australian government will provide technical assistance to Air Niugini with its fleet replacement program. The airline is looking for more efficient regional jets as replacement for its Fokker fleet.
Fokker F27, Fokker 50 & Fokker 60
| c/n | type | registration | new registration | comment |
| --- | --- | --- | --- | --- |
| 10610 | 500 | D2-ESN | | SJL Aéronautica. This Friendship, stored in the open air at Rand airport for more than three years, was noted inside the Fields Airmotive hangar on 23 Janyary 2023, getting some technical attention. Maybe the prelude to a change in status? |
| 20107 | 050 | SE-MHV | | Largus Aviation AB. Contrary to previous expectations, this aircraft never came to Sweden and was cancelled from the Swedish register 9 February 2023 as scrapped. |
| 20113 | 050 | SE-MHR | | Largus Aviation AB. Just like SE-MHV above it never left the Philippines, was scrapped and cancelled from the Swedish register 9 February 2023. |
| 20193 | 050 | YV2917 | | Gran Colombia de Aviación (CGA). Seen stored at Cali 14 February 2023. Now CGA is defunct, the question is what will happen with this F50 and two sister ships that are stored at Cali since 2018. |
| 20263 | 050 | EP-FQB | EP-MEH | Mahan Air. Re-registered and seen in service at Bandar Abbas 16 February 2023. |
| 20286 | 050 | HP-1891 | HP-1891PST | Air Panama. Seen on 31 January 2023 at Enrique Malek airport in David, Panama in full color scheme and full registration. |
Fokker F28, Fokker 70 & Fokker 100
| c/n | type | registration | new registration | comment |
| --- | --- | --- | --- | --- |
| 11369 | 100 | YR-FKB | | Carpatair. Returned home to Arad after small repairs by Fokker Services at Woensdrecht on 30 January 2023 as KRP5102. |
| 11528 | 070 | 2-HJCH | 5Y-*** | I-Fly Air in Kenya will be the new operator of this F70 that was stored at Woensdrecht since September 2021. It commenced its delivery flight, all-white on 24 February 2023 via Luxemburg and Hurghada to Nairobi as SXI2309. By this addition the I-Fly Air F70 fleet doubled. |
Finally we have a decent picture to present of Gomair 9S-ABK (20184), parked next to sister ship 9S-ABG (20181) on a busy ramp. (Neil Wezel on Facebook; Kinshasa, 17 February 2023)
When Gran Colombia de Aviación was preparing for starting operations in 2017, it received six F50s from Venezuelan parent Avior. Three were delivered to Cali and were officially registered in Colombia. However, the Colombian registrations never appeared on the aircraft and none of them went into service. Due to the Covid pandemic CGA went out of business, leaving three F50 parked in Cali and YV2917 or actually HK-5301 (20193) is one of these. (Jean Carlo Mosquera on Jetphotos; Cali, 14 February 2023)
In Iran Mahan Air has taken its first F50 in active service as EP-MEH (20263), re-registered from EP-FQB. (Majid-Hasankhani on Jetphotos; Bandar Abbas, 16 February 2023)
The first of the three F50s that Air Panama recently acquired from Alliance Airlines, has now full Panamanian identity. HP-1891PST (20286) is former VH-FKZ. (Shalin Guardia on Jetphotos; Panama City-Marcos Gelabert, 12 February 2023)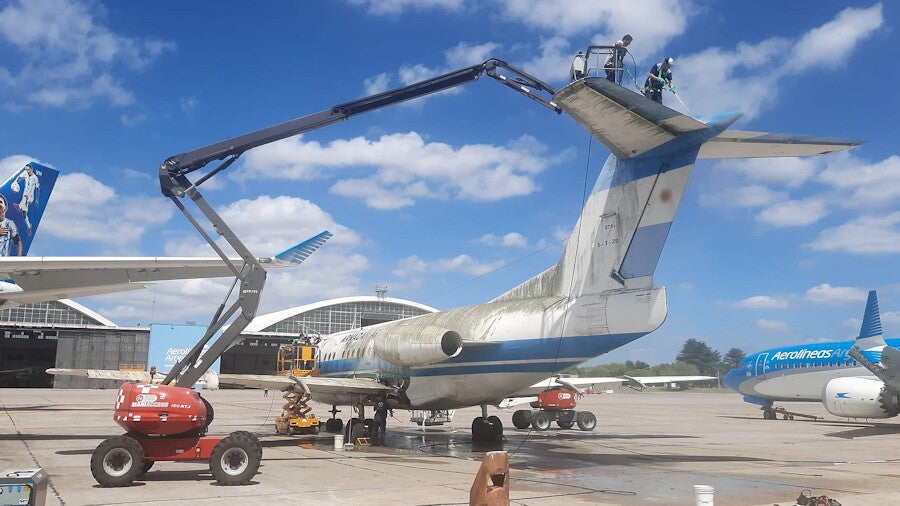 Fellowship 5-T-20 (11145) of the Argentine Navy is being thoroughly cleaned and made ready for transportation from Ezeiza to Oliva, Cordoba. It is destined as an exhibit in the Museo National de Malvinas, which commemorates the 1982 Falklands conflict between the United Kingdom and Argentina, in which this F28 actively participated. (Leonardo Nemec on Facebook; Ezeiza, 30 January 2023)
Since Bek Air was grounded in December 2019, their entire F100 fleet has been stored at Almaty airport. This picture shows seven out of the nine F100s in snowy weather. In the front row, from right to left, are UP-F1018 (11317), UP-F1009 (11470), UP-F1011 (11517) and UP-F1005 (11500), while in the opposite row UP-F1010 (11527) is visible; two other F100s remain unidentified. (Ivan Petkovich via Merv Crowe; Almaty, January 2023)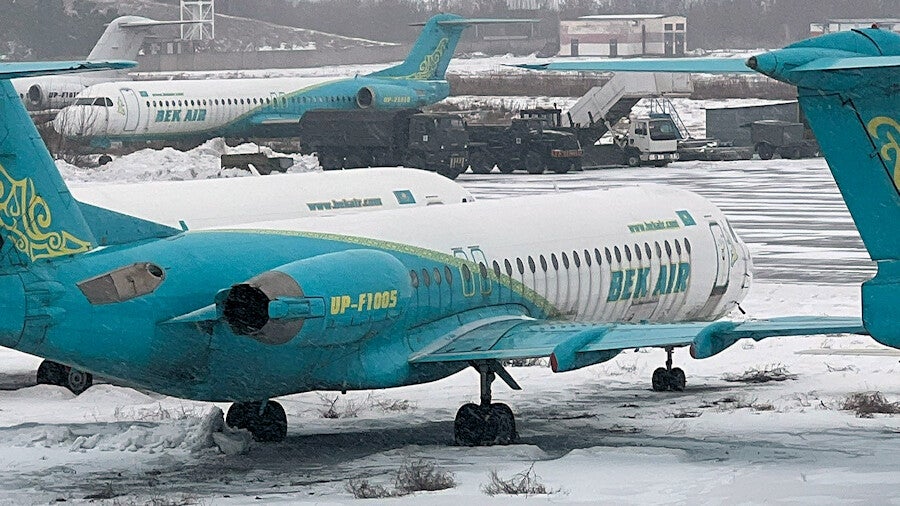 Nearly six years after its last commercial flight for Insel Air, this F70 took off for a new career with I-Fly Air in Kenya. It is still 2-HJCJ (11528), but will soon get a Kenyan registration and hopefully more color than during departure. (Ralph Hamaker on Flickr; Woensdrecht, 24 February 2023)
Credits
All photographers named above, Avcom FAGM forum, Aviator.aero, CH-Aviation, Merv Crowe, Frank Ellemers, Jetphotos, Jacques Vooren, Henk Wadman, WoensdrechtAS forum.
Maak jouw eigen website met

JouwWeb